Average & Median Prices Down Year over Year
Lately the average sales price has been dismissed by the real estate industry. Which is funny considering it was frequently mentioned on the way up.
Of course now that the average sales price has collapsed we have decided to ignore it. The typical response in the industry is that it fluctuates too much and can vary depending on what type of inventory is sold that month. While this is 100% true, ignoring the average sales price altogether is completely irresponsible. Ultimately, the average sales price shows the amount of capital flowing into Vancouver real estate.
The capital flowing into Vancouver real estate has evaporated. Average sales price shows that 2015 price gains have been erased.
Let's look at all of REBGV first and then break it down into further sub areas. For all property types from October 2014 to October 2015 the average sales price was up 16%. From October 2015 to October 2016 it's now down 5.2% year over year. This decline is even more dramatic when you look at the average price peaking in March 2016 and has since fallen 18%.
Vancouver East
Vancouver East average sales price is still up 4% year over year. However, much of it's 2016 gains have been washed away in recent months.
Vancouver West
In a similar fashion Vancouver West prices appear to have peaked in the spring and have since returned near 2015 price points. Average price shows a 2.5% gain year over year, a meager increase in comparison to the 15.6% gain the year previous from October 2014 to October 2015.
Richmond
Richmond is a prime example of money leaving the market. I mentioned before how much foreign capital has heavily influenced the area (Richmond Market Fluctuating with Foreign Demand). With detached prices up 80% over the past 3 years along with the highest concentration of foreign buyers, capital is now fleeing the Richmond market. The average price is down 12% year over year.
Don't get me wrong average sales price has it's flaws but ultimately it shows how much capital is in the real estate market. It shows real time data. Yes, detached properties are responsible for most of the price drops but to simply ignore the amount of money leaving the market is foolish.
Median sales price also solidifies the amount of capital exiting the market. Median sales price in REBGV has dropped 2.5% year over year.
Of course none of this data will be reported by the board. Instead they choose to report the MLS benchmark which shows prices are up 24.8% year over year. I'll let you be the judge though, does this chart below look like real time data?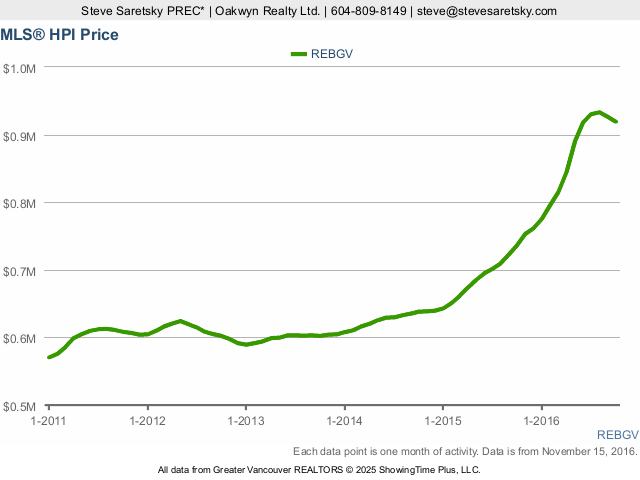 It really makes you wonder, how can the average and median show prices are down year over year but the benchmark up almost 25%. Interpret at your own peril.